Using this website at home and in school
For Parents and Educators
Teachers, school administrators and student services personnel, as well as families can use this website online information, resources and activities in a variety of ways: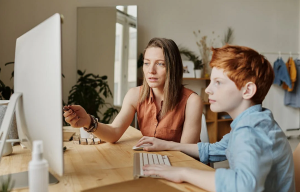 The website is particularly effective in your own self-education at work or at home.
A quick way to familiarize yourself and your students with coping issues is using the Frequently Asked ? s section of the main menu.
Access website features or activities with students on your school or office computer (or parents and children work together at home) to help students learn and practice coping skills. This supports student efforts to discover how their coping brain affects their behavior.
Use this website as a part of teacher or school services personnel in-service training programs or for professional continuing education purposes.*
Project the website on a classroom screen as part of life skills instruction sessions. Using a laptop you can navigate online to select particular website features.
At home, parents can participate with students by taking quizzes, and learning together using activities about coping skills and brain functions.
Parents can review the website sections by themselves so they truly become an informed about how influential they are as a child"s "first coping skills teacher."
Groups of parents (i.e. PTA) can learn together and practice activities that build an understanding how kids use their coping brains to respond when they re stressed or upset.
Selected website features and activities may be included as part of a school health science unit. School psychologists, social workers and counselors, science teachers and school nurses at both elementary and middle schools may choose to use these resources as part of a student ,strong>preventive health education program.
*Presently there are no continuing education units available from this Project for educators using this website. However, individual institutions may offer incentives to those who utilize the educational material, resources and learning activities to advance their understanding of student coping and pre-teen behavioral issues. In-service training programs may include selected website home page features, main menu topics, or search subjects by using the Site Search feature at the top right of each page.
Which is better these days?
We Welcome Your Suggestions
Please take a moment to tell us how we can make this website more useful and helpful to you and your students. Site visitors are invited to Share this website information, resources and activities with friends and professional colleagues. Please click the following link to send us your Comments and Questions.
Additional Education Resources for Students and Adults
There are several additional educational resources and activities linked to this website for parents, educators and students. Reports on new resources are available free in the Brain Works & Coping Kids electronic Newsletter. You may also post comments or read opinions of others on the Coping Skills Blog. These are just a few of the ways to share with others your ideas, discuss coping skills problems and discover new ways to use the website resources and activities. Our main purpose is to promote education strategies that support kids in their efforts to develop and use healthy and effective coping tools that can ease their transition into middle school and teenage years.
Need help developing a Brain Works and Coping Skills Project at your school? Click here to learn more about the Brain Works Project.
Using the Website as an Orientation for New Middle School 6th Graders
In addition to using elements of this website for elementary school 4th and 5th grade students, their parents and teachers, specific topics may be particularly helpful as part of a student orientation and introduction for new sixth graders entering middle school.
Brain and behavior changes occur rapidly between students first and second semester of 6th grade. We have found during classroom demonstrations that the Brain Works & Coping Skills project is more effective with first semester ("new") 6th graders than they become second semester 6th graders. Younger 6th graders" brain and behavior patterns tend to be more adaptable. Use this open "window" of opportunity when students first enter middle school to introduce and practicing brain-based coping skills.
Middle schools are encouraged to introduce this website before the critical period of developmental change when older 6th graders coping habits become more influenced by older peers as they transition into teenage years. Comparing sixth grade students self-assessments before and after this project shows significantly higher emotional resilience and self-acceptance gains by the first semester 6th graders.
Using portions of this website, middle school officials can selective elements of this website and Brain Works & Coping Skills project as part of general orientations for incoming 6th graders. We have found that understanding coping brain functions is a practical and essential part of preparing students for teenage years and middle school social challenges. Use this Question and Comments form to request further information about developing Brain Works project orientations and classroom demonstrations with 6th graders.
Ronald Brill, Brain Works & Coping Skills Project founder and director